Christmas shopping is one of the most fun but challenging activities for me. During this season, Manila is taken by storm with the quick emergence of Christmas sales and bazaars in almost all parts of the metro. Like most of you I look for practicality and value in the merchandise I buy as gifts for family and friends. Especially for budget conscious shoppers, the mantra is: "it's not the price but the thought that counts." Now, where to do Christmas shopping? Here are my top picks for Christmas shopping venues in Manila:
1. Toy Kingdom and Toy Kingdom Express
- I always look forward to Toy Kingdom's and Toy Kingdom Express' Toy sale which happens almost all-year round. If you're the type who shops early in the year or throughout the year for gifts and take advantage of undeniably good toy sale, then go and check for Toy Kingdom's schedule of sale through their
website
, their
Facebook Page
or follow them on
Twitter
.
2. Toys "R" Us
- At the start of BER months, Toys "R" Us start their private sale and regular toy sales. I too have been shopping for not only Christmas gifts at Toys "R" Us, but for birthday giveaways or game prizes for my sons' birthday parties. This November 14- 19, Toys "R" Us is having another
BIG TOY SALE
at the Trinoma Mall in Quezon City! Take advantage of this 6-day toy sale and enjoy up to 70% off on your favorite toy brands. Regularly visit Toys "R" Us'
website
,
Facebook Page
or follow them on
Twitter for more updates.
3. National Book Store
- There's so much you could purchase at National Book Store. Whether it be books or educational board games or journals, it's all there! National Book Store have had book sales since August which I wrote about in my previous
post
. On November 15 - 18, they are going to have a
Warehouse Sale
of up to 80% on books, supplies and gift items! For more updates, visit their
website
, like them on
Facebook
or follow them on
Twitter
.
4. SM Stores/ SM Department Stores -
No one would ever go wrong if you buy gifts at SM Supermalls or SM Department Stores. Gift choices for infants, toddlers, children, teens, men and women are all there. They surely got it all for you! Plus with SM's all-year round 3-Day sale at over 40 branches nationwide, you really get value for money when you shop for gifts earlier. For SALE and event updates, visit their
website
, like their
Facebook page
or follow them on
Twitter
.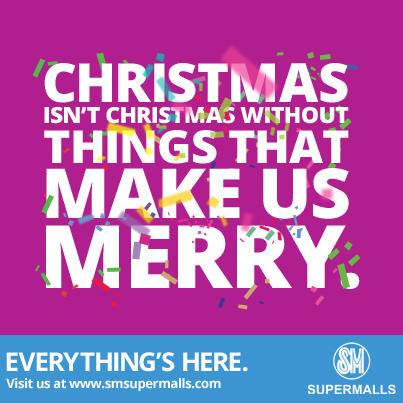 5. Robinsons Malls -
Robinsons has around 30 branches nationwide to date and has also been having its clearance sales and thematic sales all year round. You can find any gifts both for the young and not so young, men and women here as well. For more updates on Robinsons Malls' sales and events, visit their
website
, like them on
Facebook
or follow them on
Twitter
.
6. Ayala Malls -
Ayala Malls comprise of the following malls:
Glorietta
(Makati),
Greenbelt
(Makati),
Market! Market!
(Taguig City)
Alabang Town Center
(Munitnlupa),
Trinoma
(QC),
Bonifacio High Street, Ayala Center Cebu
(Cebu City),
Marquee Mall (
Central Luzon),
Abreeza
(Davao) and
Harbor Point
(Subic, Olongapo City). Ayala Malls are for the higher-end gift shopping. They boast of a number of signature boutiques and a lot of local shops too which individually has store sale all-year round. For more information, visit their
website
, like them on
Facebook
and their
Events
page or follow them on
Twitter
.
7. Divisoria -
Heaven for bargains, haggling, broad range of goods for all ages, definitely lower prices, crowded streets, bangketa sales and night tiyangges - this is
DIVISORIA
! I love shopping at Divisoria because a lot of items you see in the mall cost half its price at Divisoria. The more popular malls to shop at Divisoria are the following:
Tutuban Mall, 168 Mall, 11/88 Mall, 999 Mall
, (the old)
and
Divisoria Mall.
Some tips in shopping at Divisoria are:
- Come early - Take Public Transportation
- Bring only the essentials, preferably in a body bag - Wear comfortable foot wear
- Haggle, Haggle, Haggle - Bring extra shopping bags (large ones)
- Don't wear jewelry or expose your expensive gadgets - Be patient


Photo from OutofTownBlog.Com
8. Greenhills Shopping Center -
Chtistmas Bangketa is happening on November 15 to January 7. This is one of the most awaited time of the year. Next to Divisoria, this is the Cloud 9 of bargain for quality finds from over 2,000 indoor and outdoor shops. Christmas gifts for all ages could be bought at Greenhills. They have scheduled tiyangges all year round for those who want to avoid the rush of Christmas shopping. For more details, visit their
website
, like them on
Facebook
or follow Greenhills on
Twitter
.
9. Chrismas Bazaars -
Bazaars are abundant during this season! Why not? People have a long list of Christmas gift-giving. At any Christmas bazaars, you will find an array of merchandise from entrepreneurs, and established brands at very low prices. For ONE OF THE MOST COMPLETE LISTING OF 2012 CHRISTMAS BAZAARS (with OVER 40 Bazaar schedules(, please visit my other post::
2012 Christmas Bazaars In Manila
HAPPY SHOPPING! :)
Tweet
Like this post? Subscribe to this blog by clicking HERE