Wednesday, October 17, 2018
Books
Events
Isay Goes to Schools! First stop: Baclaran Elementary School Unit 1
Award-winning and Amazon bestselling author, inspirational and international speaker Teresa Gumap-as Dumadag visits first recipient of Ma...
Award-winning and Amazon bestselling author, inspirational and international speaker
Teresa Gumap-as Dumadag
visits first recipient of
Maliit na ang Palda ni Isay's Book Donation Drive and Public School Tour.
One hundred (100) female Grade 2 Students from Baclaran Elementary School Unit 1, Parañaque City were the first recipients of Isay Goes to Schools – A Book Donation Drive and Public School Tour.
Last September during the 39th Manila International Book Fair, Teresa Gumap-as Dumadag launched her latest children's book titled
Maliit na ang Palda ni Isay
, published by Chikiting Books under the Vibal Publishing Group.
Based on the author's life story, it is a story replete in Filipino values. This book beautifully highlights that it is more important to get an education than to have brand new things for school, aside from encouraging the readers/students to reuse and recycle. It is written both in Filipino and English.
Isay Goes to Schools: A Book Donation Drive and Public School Tour was launched to allow individuals, groups, organizations and companies to donate copies of Maliit na ang Palda ni Isay to public schools and promote its very important message by going around the country, to give inspiration and empower young underprivileged Filipino students.
Author Ms. Dumadag with school coordinators
Among those who graced the event were Adopt a School Coordinator and Master Teacher 1 Ms. Melania S. Solis and Reading Coordinator Ms. Rosalie R. Teanila. Ms. Dumadag was likewise joined by her family – including her mother – Aling Tess in her story – to donate the 100 copies of her children's book from generous donors to 100 excited and grateful children.
Author and her mother Aling Tess
The short program commenced with an interactive story-telling activity by Ms. Dumadag.
Interactive storytelling with the author Ms. Dumadag
It was followed by a series of discussion questions asked by the author to the young audience to help them better grasp the lessons from the story and a short inspirational talk to encourage them to do well in their studies.
After these, the kids excitedly lined-up to meet the author – Isay – for their Meet and Greet and to have their copies signed.
Students lined up to meet and greet Ms. Dumadag and for book signing
The author heartwarmingly expresses,
"This is another dream come true for me. I really wanted to go around schools and donate copies of my latest children's book to public school children. I want to inspire and encourage them through this book. I want them to know that dreams do come true with a lot of hard work and a lot of grace from God! It doesn't matter if their circumstances are not ideal now or far from what they dream to achieve."
"I'm grateful to everyone who sent their donations to make this first school visit possible," she added.
Watch this video for the book donation highlights:
INVITATION TO DONATE A BOOK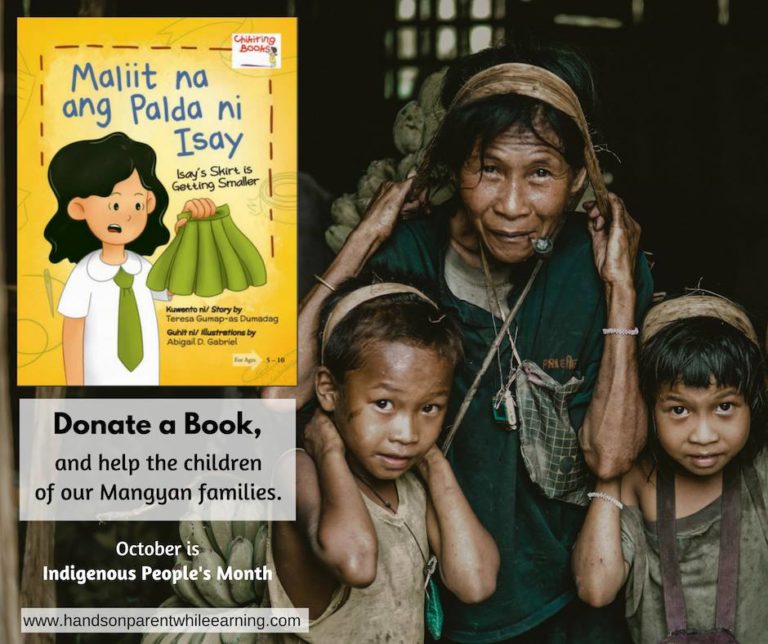 More funds are still needed to support upcoming book donations and school tours. Cash donations are most welcome and may be sent through BPI, BDO or PayPal. Read more about the Book Donation Drive
HERE
.
Feel free to message the author through their
Facebook Page
or e-mail her at teresa@fulllifecube.com to support this life-changing advocacy in any way.
You may also help spread the word by sharing posts or posters from their Facebook pages on your social media accounts.
The children's book Maliit na ang Palda ni Isay can be purchased at
P100 only per copy
through the Facebook Pages Full Life Cube and Hands-On Parent while Earning, or by sending an e-mail to teresa@fulllifecube.com.